The patented mechanism provides a "spiral stripping mode" to remove tough to strip insulations.
The PTFE coated blade housing combined with an ultra sharp blade delivers smooth low friction stripping even on the toughest of insulations.
All the plastic components are made from high quality engineering grade polymers and all the metal parts are made from the finest carbon steels to ensure a reliable long life performance.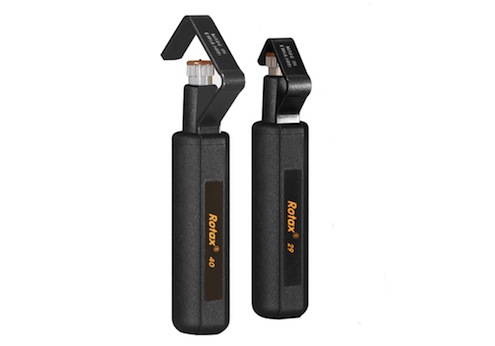 Wire and cable types
Strips PVC, Rubber and Butyl insulations
Dimensions and Weights
Rotax29 140mm x 38mm x 28mm - 0.096kg
Rotax40 154mm x 54mm x 28mm - 0.106kg
Stripping capacity
Rotax29 for cables 4.5mm to 29mm diameter
Rotax40 for cables 19mm to 40mm diameter